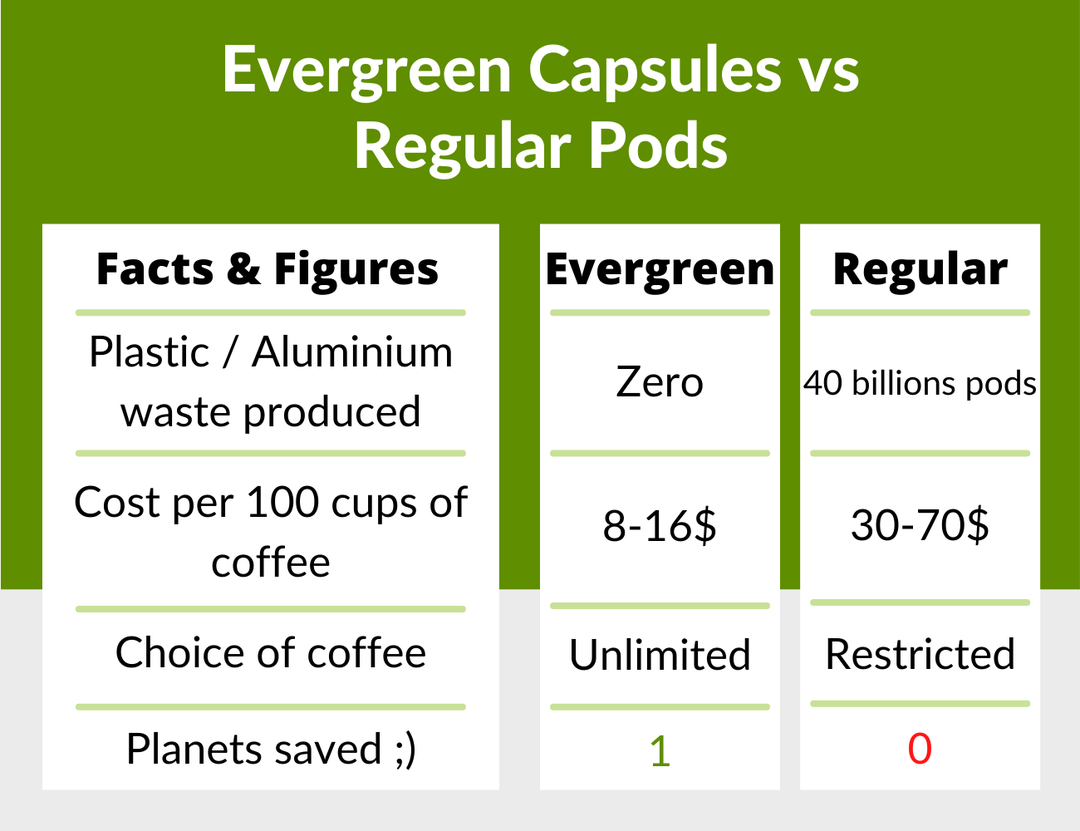 Evergreen® Reusable Capsule for Nespresso®
"The order was processed and delivered very quickly. I have a Krups machine which as promised it works great with. Easy to clean. Thank you, love the product and would definitely recommend." 
- Lucy C., Evergreen Customer

& Free Worldwide Delivery
100% Money Back Guarantee
"The order was processed and delivered very quickly. I have a Krups machine which as promised it works great with. Easy to clean. Thank you, love the product and would definitely recommend." 
- Lucy C., Evergreen Customer

750,000,000
That's how much pods did not end up in landfills and oceans thanks to our community using our capsules since our start.
So why don't you join us?


"We really enjoy this product because we can choose whatever coffee we like. We save the planet from lots of plastic. It takes some time to understand how to use properly the capsule, but it is worth it."
- Suzanne & Morten
Why are over 125,000 people already using the Evergreen Capsules? (and is it right for you?)
If you're tired of having a bad environmental impact while drinking coffee. If you want to select your own coffee, from your local coffee roaster. If you want to stop giving money to multinational companies by buying their very expensive pods. Here's why...
125,000+ happy customers in 100+ countries!
from 1524 reviews
All testimonials are written by verified Evergreen Capsules® customers.
Evergreen® Capsules were created with the help of some of the best coffee roasters in the world.
 When we created Evergreen® Capsules, we knew that the most important thing for success was the quality of coffee they produce. To ensure there was NO compromise and to make sure we deliver the best quality coffee possible, we have joined up with a team of world renowned expert coffee roasters to produce the best design on the market.
100% 304 food grade stainless steel with a specialised filter for perfect extraction.
Don't believe us, see what others say!
I'm really impressed with this product. I was very sceptical about it at first, worried that it might damage my Nespresso machine or that it just wouldn't work but I needn't have worried. It's an excellent product, works well and is of good quality. I will be buying more!

Marie B. - Evergreen customer
40 seconds to fill in the capsule, 20 seconds to clean it!
The Evergreen Capsule is easy. If you take the dispenser in your order they will take about 30/40 seconds to prepare.

What about if you have several friends or family coming over for dinner? It would be a hassle to prepare each capsule one by one, that is why we are offering packs of 3 capsules. If you really have a lot of friends coming over, take a second 3 capsules pack, and one little tip that will make your life easy: prepare the capsules in advance! You can indeed prepare them in the morning or the day before, and then keep them in an air tight container, like the C02 valve container that we also sell.
The cleaning is very easy. Empty the used coffee ground (another tip: empty it in the bin for compost! and it's perfect as a facial scrub and against cellulite!), pass the capsule 10 seconds under water and then let it dry. You're good to reuse it!
With what machines are the capsules compatible?

The Evergreen Capsules® for Nespresso© are compatible with almost all the machines. However, if you have the Essenza mini D-30 or the Latissima One machine, we strongly advise you to go with the version of our capsule using single-use lids here. The only machines NOT compatible are the Krups Essenza Auto family XN2000 -2100 (older version), the MI-schishare, the Delonghi EN97, Magimix M100, and the Essenza C100. 


Do you only have capsules for nespresso?

No, we also have compatible capsules for Dolce Gusto®, Tassimo®, Vertuo®, Caffitaly®, Lavazza®, Illy®, Senseo® and Keurig® that you can find here.


Doesn't the machine pierce through regular capsules? How do stainless steel Evergreen® capsules work in my machine?

Beau Capsules are slightly shorter than the classic capsules and are shaped so the machine does not have to pierce through them. They have a specially designed filter on the inside of the lid to let the water pass through without any trouble. 


How do you clean Evergreen® capsules? Is it easy?

Yes , it's super easy, just follow this simple 3 step process (total cleaning time = 30 seconds):




 1. Remove the lid and pour the coffee into the bin (food bin if you have one). You can use a knife or spoon to assist if needed.




2. Rinse the capsule and lid under warm water for 10-15 seconds.




3. Dry with a tea towel or leave out to dry.  




After multiple uses, you may want to take the silicone seals off to clean underneath them. It's super easy and will only add a few more seconds.

If you take care of them and wash them after each use, they can last for 10+ years. 


Is there a money back guarantee?

Yes, we are very confident in our capsules so we offer a 30-day money back guarantee. 




In the unlikely event that you are not satisfied within 30 days of placing your order, then we will happily provide you with a full refund.




To apply for a refund just follow the simple steps below:




 1. Contact our support team at the following email address (contact@evergreen-capsules.com), request a refund and explain the reason why you want to receive the refund. We advise using videos or images to help demonstrate any issues you are experiencing.




2. Our support team will respond within 48hrs to inform you that your refund request has been received. 




3. Return the capsules to the address provided by the team and send the shipping receipt to the member of Evergreen support team you are in contact with and they will process your refund immediately.




Email: contact@evergreen-capsules.com

What is the expected delivery time and do you ship to my country?

We ship to most countries around the world. If you are unsure, feel free to drop us an email at contact@evergreen-capsules.com.

Below is a list of the expected delivery times and shipping costs by regions (unless a promotion is ongoing):




United States & Canada:

Standard 3-12 Business Days - $9.99




Australia / New Zealand:

Standard 3-12 Business Days - $9.99




Asia:

Standard 3-12 Business Days - $9.99




Middle East:

Standard 3-12 Business Days - $19.99




Europe: 

Standard 3-12 Business Days - $6.99




United Kingdom:

Standard 3-12 Business Days - $6.99




South America:

Standard 5-15 Business Days - $19.99




Africa:
Standard 7-20 Business Days - $19.99

Doesn't Nespresso recycle their capsules? Why are Evergreen® capsules better for the environment?

Only around 13% of the 60+ billion plastic & aluminium capsules produced every year are recycled. Reusing is also always more effective than recycling as a lot of energy is required for both manufacturing the billions of capsules and recycling them, so it still has a negative impact on the environment.

How do you make a strong coffee with Evergreen® capsules?

The most important thing is the type of coffee you use. We recommend going for a dark roast profile and a grind size of 142 microns (a finely ground coffee - most coffee roasters will know what we mean).




If you'd prefer to go with a big name brand then our other customers recommend Lavazza Crema e Gusto, Lavazza Qualita Oro and Illy Classico.




If you want your coffee to be extra strong, we advise to go for our capsule option using single-use lids here, since they enable you to pack more coffee inside the capsule. As the lid only represents 5% of a regular pod's weight, you will still be making a considerable savings in terms of waste for the planet.

The Evergreen® brand was founded in Spain with an ambitious goal: offer products that can be useful to you and the Earth at the same time. We want to spread awareness about environmental issues our Planet faces and provide people with solutions to tackle them.
Created with 💚 in Barcelona.
For all general inquiries, please contact us at contact@evergreen-capsules.com